Dr.Koheil puts great emphasis into continuing his education. He was trained by the Legend Dr.Carl Misch. With this extensive training and background, Dr.Koheil replaces missing teeth with Dental Implants, he performs the surgical and restorative procedures as well.
Dental Implants are the closest resemblance to natural teeth in the way they look and function. Whether it is a front or a back tooth, with dental implants your teeth will look and function just like they used to.
Dr.Koheil utilizes the most up to date 3D and CAD CAM technology, your procedure is planned with the end result in mind. That means before the implant procedure is started, a precise and meticulous map is planned. Size, location, number and angulation of the implant is pre planned before your procedure is even started. This provides a more predictable result, with least amount of discomfort.
Your face and mouth undergo changes when one or more teeth are removed. As a result, your jaw bone melts away, and your face show signs of premature aging and wrinkles. In the US, there are over 30 Million are missing their teeth. If you can not chew and digest food properly, nutrients that the body need are not absorbed, which may result in chronic diseases such as diabetes and heart disease. Missing your teeth definitely affects your general health.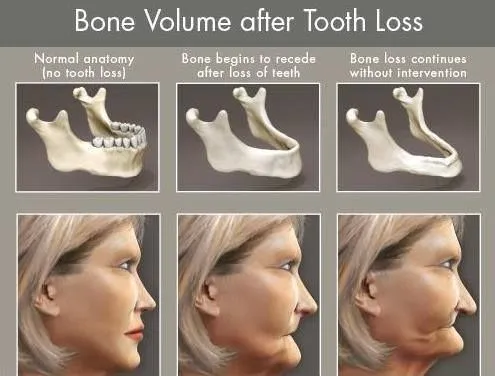 Dr.Koheil's patients have said "I'm happy with how my implant crown looks and feels" another patient has said "Finally my dentures stay in place!" another stated "I don't cover my mouth anymore to hide my teeth".
Dental Implants can replace ALL teeth with a Hybrid Prosthesis. All of the teeth are fixed in place and attached to Six to Eight Implants.On the day of the procedure, you go home with your new teeth.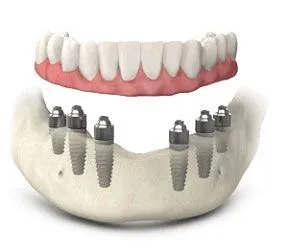 Majority of patients that have Dentures experience that lower dentures don't stay in place.It can be really embarrassing if your dentures fall out during a family reunion or a gathering with your friends. As well as, inability to chew well with loose dentures affects your health.
With Dental Implants, your dentures can "click in" your mouth. Thus improves its stability and retention. You don't have to worry about dentures falling when you talk or laugh, you will be able to eat the food you love without any problems.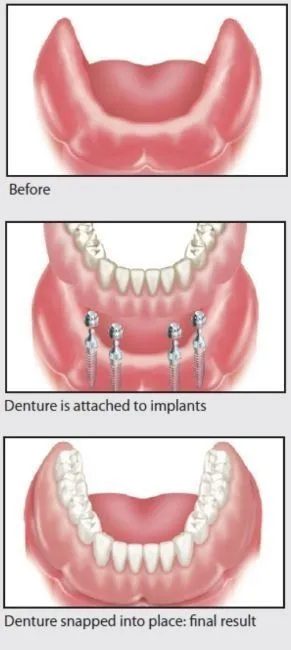 Whether it is one tooth, multiple teeth or even all teeth, you can have your teeth replaced with Dental Implants.
Visit our Smile Gallery.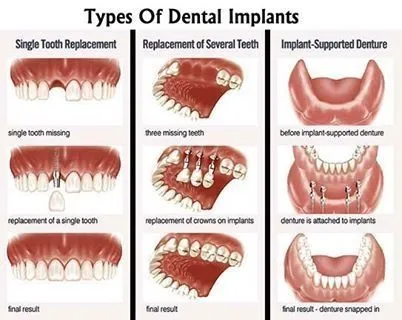 What is a dental implant?
Missing tooth or teeth can be replaced with dental implants. It is the closest resemblance to natural teeth. It is a titanium root portion that is placed into the jaw bone. A base and a crown are then placed on the implant to provide a new tooth that looks and feels just like a natural tooth.
How are dental implants different than dentures?
Dentures are a removable set of teeth or partial set of teeth that need to be removed and cared for in a special manner. They can often feel bulky and are difficult to get used to. Dental implants are a replacement for missing teeth that are fixed and can be cared for just like natural teeth.
What are the benefits of dental implants?
Dental implants look and feel just like real teeth, they are permanent, you can eat the foods you want, speak or sing without any fear of embarrassment, and the procedure is very successful.
Who can place a dental implant?
Dr.Koheil has extensive training in placing and restoring dental implants.
How long do implants last?
When cared for properly, implants can last a lifetime. Proper oral hygiene and regular dental visits are essential to the success of your implant.
How much do implants cost?
The price of your dental implants vary based on how many implants you are having placed, location in the mouth and if any other procedures are needed to make your implant successful. Schedule with us a free consultation to determine the price for your implants and learn more about financing plans that fit your needs.
Do dental implants hurt?
We will provide you with post surgery instructions that will make the process very comfortable for you.